One of the biggest challenges facing your business today is keeping your catering equipment free of carbon and grease whilst simultaneously controlling your labour, chemical and electrical costs. Added to which, you face the ever increasing costs of compliance with HACCP regulations.
The Thermotank ensures that your equipment comes out absolutely clean, whilst reducing your carbon footprint and electricity consumption.
Using new methods and deploying the right technology means soaking is the most effective way to remove carbon build up
Soaking is safe, saves time and saves money
All of our tanks are fully insulated, meaning clients save approximately 75% to 80% of the normal electrical running costs of a unit.
Our chemical solution is SABS approved, HACCP compliant and bio-degradable.
Our tanks come in a variety of sizes – just ask one of technical advisers which is best for your environment.
With an operating temperature of above 80 degrees Celsius, 99.9% of germs, bacteria and viruses are eliminated during soaking.
To accommodate a range of establishments of different sizes and throughput, we offer 6 sizes of soak tank. Explore the range below to see which tank would best suit your needs. If you are still unsure, make contact with us to discuss your requirements.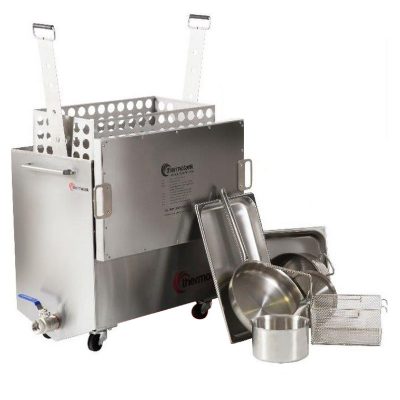 120lt Soaking Volume
Fryer Baskets
Baine Marie Inserts
Grill Grids & Gas Rings
Medium Pots & Pans
Extraction Filters
Roasting trays
Width:870mm
Depth: 440mm
Height: 775mm
230lt Soaking Volume
Oil Drums
Multiple roasting dishes
Grilling Grids & Gas Rings
All Types of Fryer Baskets
Large Stock pots & Pans
Extraction Filters
Width: 980mm
Depth: 660mm
Height: 800mm
200lt Soaking Volume
Bread Straps [B04 or less]
Rotisserie Chicken Racks
Baking Trays [up to 750mm x 450mm]
Medium Pots & Pans
Extraction Filters
Roasting Trays
Width: 1060mm
Depth: 510mm
Height: 800mm
325lt Soaking Volume
Bread Straps [B05 or less]
Large Stock Pots & Pans
All Frying & Grilling Equipment
Baking Trays [up to 800mm x 600mm]
Roasting & Serving Dishes
Extraction Filters
Width: 1080mm
Depth: 620mm
Height: 1000mm
355lt Soaking Volume
Bun & Roll Pans
Every Bread Strap
All Baking Equipment & Utensils
Baking Trays [up to 800mm x 600mm]
Food Tray & Transport Crates
Extraction Filters
Width: 1080mm
Depth: 740mm
Height: 1000mm
XXXlt Soaking Volume
Width: ?mm
Depth: ?mm
Height: ?mm