For 95% of our clients, soaking is done every day meaning an on-site solution is the most practical and cost-effective approach.
The Thermotank ensures that your equipment comes out absolutely clean, whilst reducing your carbon footprint and electricity consumption.
Our Thermotank range incorporates a thick layer of industrial grade insulation material held between 2 stainless steel skins.
This means;
Less heat radiates into the kitchen
Electricity consumption is reduced by 80% when compared to non-insulated tanks
Our tanks provide hotter and more consistent cleaning temperatures that result in quicker and more effective decarbonising of kitchen and bakery equipment
WHAT DO OUR SERVICES INCLUDE?
INSPECTION:
Our first step is a site visit to establish what your needs are, what tank size best suits your operations and where it should be placed.
INSTALL & TRAIN:
We deliver our tanks to your premises, install and fill the units with our proprietary solution, put up our notices and train your staff.
MONTHLY SERVICE:
We return once a month to drain and clean the tank, replenish it with our HACCP compliant and bio-degradable chemical and check that the electrical components are functioning properly.
BACK-UP:
We regularly retrain your staff and make sure that any new staff members are familiar with our tanks and the benefits of soaking. We offer a 48hour turnaround on any electrical repairs.
To accommodate a range of establishments of different sizes and throughput, we offer 6 sizes of soak tank. Explore the range below to see which tank would best suit your needs. If you are still unsure, make contact with us to discuss your requirements.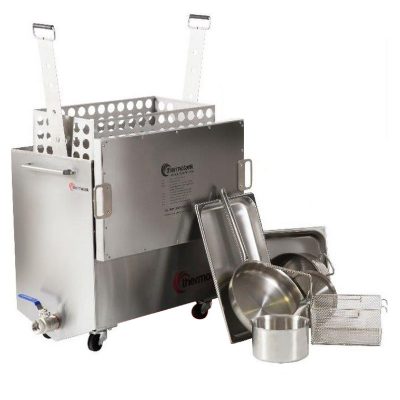 Ideal for Coffee Shops & Small Restaurants
120lt Soaking Volume
Fryer Baskets
Baine Marie Inserts
Grill Grids & Gas Rings
Medium Pots & Pans
Extraction Filters
Roasting trays
Width:870mm
Depth: 440mm
Height: 775mm
Ideal for Most Restaurants & Small Supermarkets
230lt Soaking Volume
Oil Drums
Multiple roasting dishes
Grilling Grids & Gas Rings
All Types of Fryer Baskets
Large Stock pots & Pans
Extraction Filters
Width: 980mm
Depth: 660mm
Height: 800mm
Ideal for Restaurants & Bakeries with Space Constraints
200lt Soaking Volume
Bread Straps [B04 or less]
Rotisserie Chicken Racks
Baking Trays [up to 750mm x 450mm]
Medium Pots & Pans
Extraction Filters
Roasting Trays
Width: 1060mm
Depth: 510mm
Height: 800mm
Ideal for Local Supermarkets & Bakeries
325lt Soaking Volume
Bread Straps [B05 or less]
Large Stock Pots & Pans
All Frying & Grilling Equipment
Baking Trays [up to 800mm x 600mm]
Roasting & Serving Dishes
Extraction Filters
Width: 1080mm
Depth: 620mm
Height: 1000mm
Ideal for Large Supermarkets, Food Producers & Corporate Canteens
355lt Soaking Volume
Bun & Roll Pans
Every Bread Strap
All Baking Equipment & Utensils
Baking Trays [up to 800mm x 600mm]
Food Tray & Transport Crates
Extraction Filters
Width: 1080mm
Depth: 740mm
Height: 1000mm